Soul Shards
On February 8, 2012, Susan had a minor stomach ache. I remember the date clearly because we were getting on a plane for Australia in a couple days and so didn't want anything to interfere or be a problem. By the time we left, it was forgotten and I remember seeing her at a distance in the Vancouver airport and thinking how great and happy she looked. Within a few days of getting to Australia she seemed to be having a stomach ache most days and I finally started to push for her to see a doctor. It took a few days to arrange that but about March the 6th we were at a GP. The initial diagnosis was that there was nothing wrong that couldn't be solved with more veggies, but when a follow-up ultrasound was done the same day we began to be worried. For the next several days we were doing CT scans, chest xrays, blood tests etc every day. Each test had aspects that scared us but there was always lots of doubt as to what the real issue was. Eventually the doctors said that they needed to do a colonoscopy. There was a one week wait for that and again the results were not definitive, but they were frightening enough that we decided we had to get Susan home as soon as possible. Susan was home in Ladysmith on April 4th and our doctor here quickly arranged a biopsy. On the 25th of April we got the news that she had a stage 4 cancer in her lymph nodes. The doctors told us then that this was incurable and that all they could offer was therapies to extend life. Over the next four months Susan fought with every ounce of her strength and with great courage. Dozens of doctors and nurses did all that they could, but eventually Susan lost her battle early in the morning of August 27. I was with her when she passed out of this world and I believe that she was without fear.
Susan often said some equivalent of "life is short, eat desert first" and I think she'll be happy to know that I'm repeating that to you now.
I hope that the photos on this site will provide a little comfort for all of you that love Susan. Douglas Hofstadter, talking about a photo of his father said "……has the unique power to bring back to life inside our brains , some tiny fragment of the internal experiences of another human being….makes little fragments of the soul dance again….. that photograph is a soul-shard of someone departed and it is something we should cherish as long as we live."
Eulogy from Susan's parents
The image below is a poem and eulogy dedicated to Susan, written by her parents Shirley and Howard Leader.
Click on the eulogy image to see it enlarged.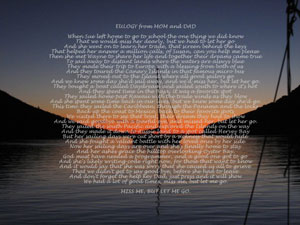 Susan's Celebration of Life
Presented By Gary Wilson and Janice Heckl
We are very honoured and pleased to be providing the Eulogy for Susan's Celebration of Life and our love for her.
There is so much to say about our beloved Susan but I'm going to start at the beginning. Susan was born in 1965 in Marathon, Ontario, to Howard and Shirley Leader, the third girl and a sister to Glenda and Barb.
Susan grew up in Prince Albert, Saskatchewan, where she lived until she left home for college. She was always a whip-smart honours student and she got into computer programming very early, before most people even knew what a computer was—an early indicator of her ahead-of-the-curve smarts.
She met Wayne in Calgary in the '80s and it was a match made in heaven as they discovered a shared affinity for the important things in life—friends, family, sailing and, especially for Susan, animals. Wayne and Susan were married July 21, 1990. It was at Devonian Gardens in downtown Calgary (these are indoor gardens at the TD Centre). The reception was at La Caille, which was the most exclusive restaurant in town. Brad Caldwell was the best man and Barb Leader the maid of honor.
Our family loved Susan. My sister Doris wanted to say that the entire Wilson clan found Susan to be a delightful addition to our family. Susan had a wonderful personality — she loved our brother Wayne, kittens, and sailing — and managed to have all three together at one point, sailing off to parts unknown.
Susan had a cat named Twiggy. She got this cat in about 1990 just before they moved to Victoria. Twiggy was the craziest little cat you can imagine. She would run up and down the hall for no reason and then flop in your arms like a little ragdoll. When they went sailing I thought maybe Susan would give Twiggy away. But no she kept Twiggy and turned her into a sailor. I am sure Twiggy saw more of the world than most people ever do. We all know how much Susan loved cats and I kind of think that Twiggy was her favorite of all.
Susan's family took lots of trips when she was young. Susan got bit by the travel bug in 1978 when the Leaders went to the Cayman Islands. Susan was very excited about that trip, and returned with a lot of seashells. As her sister Barb relates, beachcombing for shells became a passion for Susan. "Whenever we came to visit her in BC, we would always spend an afternoon at the beach looking for shells. She has the most beautiful collection of seashells from all her sailing trips."
Before she mastered sailing—because OF COURSE she mastered sailing—Susan traveled around and lived in England, France, Spain, Portugal and Holland. Who knew that these trips would later be eclipsed by sailing adventures to places such as Mexico, Guatemala, Honduras, Costa Rica, Panama, and various exotic spots around the Caribbean and the South Pacific.
Susan was a brave and determined sailor. She was always eager to learn and delighted to share her knowledge. She was exceptionally tolerant of non-sailors who no doubt cramped her style. Wayne's sister Faye, who visited Wayne and Susan when they were sailing in Mexico, tells the story of falling into some cactus when hiking: "Susan spent hours plucking cactus pins out of me! Two days later, I was stung by a jellyfish and Susan came to the rescue again: She raced below deck, grabbed the medical book and found out the first aid treatment. She swabbed me with vinegar for hours! Susan never complained and even invited me back!"
Susan had a well-known love of animals. It started when she was a youngster. She had many pets; including a bunny rabbit, hamster, white mice, fish, and kittens—kittens being her favorite. The Nanaimo SPCA says she is the best foster home they have ever had for kittens. Susan has saved the lives of over a hundred kittens.
Most friends remember Twiggy, her beloved cat. I'm going to say "remember" not "remember fondly" since Twiggy was a bane to those not in the Susan & Wayne circle of trust—a hissing, biting feline who one friend describes as having a personality disorder and another friend (AKA Helen) blames for a general mistrust of all cats. But Twiggy hit the kitty lottery when she landed in Susan's life.
Many friends have stories of Susan organizing fantastic sailing trips complete with near-gourmet food, great conversation and OF COURSE safety procedures spelled out. Everyone marveled at her many abilities, including the fiscal brains necessary to help make their sailing dreams happen. As Wayne's sister Doris said, "Susan very energetically organized their life so that they could save up for the boat and everything else related to sailing. She kept track of everything and once told me proudly that they managed to live on $2.50 per day when sailing!"
The Flycycle
Susan introduces the incredible Flycycle, which was designed and built by Wayne and Susan's father, Howard. It was featured on the Daily Planet on the Discovery Channel, November 2011.
Memories of Susan from friends and family
Algernon
Wayne's nephew said some of the highlights of visiting Wayne and Susan on Daydream were the fish tacos in La Paz, Tortilla soup in Guyamas, seeing dolphins in La Perla and the awesome guacamole and salsa aboard Daydream. He also has many fond memories of building the house for Wayne and Susan in Ladysmith where they bunked in the scamper while Alg was living posh in the Ladysmith Hotel.
Sonja
Sonja, Susan's niece, wanted to share the special name she her and her brother Willie affectionately had for her for the last 20 years: Auntie Popcorn. "We did so to tease her about her love of popcorn. Also I want to emphasize that Auntie Popcorn was very good natured, kind, smart and easy going. I am sure I am not alone in saying these words though."
Another friend mentions Susan's love of Kernels popcorn and how she got everyone hooked on it. She was so worried when they left on their first sailing trip: How could she manage without her beloved popcorn? Jan, the owner of Kernels, provided Susan with her very own seasonings to make her own on the boat
Jim and Carol McCullough
One of the little stories that I will always remember about Susan and will also bring a smile to my face. Always the practical gal, Susan said to me once, "Why on earth would anyone go to the store and buy expensive wine glasses when you can go to the Salvation Army and buy perfectly serviceable ones for $2?" I think she understood what was really important in her life – her friends and not things.
Judith Hadley
I have many fond memories of Susan and Wayne After meeting them at Angel Island off San Francisco in1994. Our travels down the coast to Mexico were filled with many great adventures and especially watching young Susan shine with the new experiences of everything about sailing and the south. One very fond memory was when they left their boat for a while, went back to Canada and showed up one day and came to lunch on our boat. She was so amazed that the bag of clams hanging from the side of the boat was to be lunch. It was not long before she was filling a bag with them also. It was great fun teaching and watching Susan learning to cook and try new things. We had many good times together. I know she worked very hard so they could sail off for long periods. I have seen her many times since way back then and know she has enjoyed every adventure they have had. I know her spirit will be out there with Wayne where ever he goes and how much he will miss her. I know that like all great travellers she saw more than she remembered, and remembered more than she had seen. She will be truly remembered.
Valerie Gunn
I knew Susan for a very short time through blue water sailing association meetings. The thing I remember most is her hit of using empty wine bags, blown up like balloons in lockers to stop things rolling around in half empty lockers, while under way. There was some comment about the smell of used ones but then she told us you can get new virgin ones! I will miss her bubbly spirit and thank her for imparting to me her enthusiasm for blue water.
Helen Harris
Susan's friend Helen says, "When I think of stories from back in the day with Wayne and Susie Q, they all seem to involve me being an idiot and Susan being the responsible, cheerful one. But when I think of these stories, I realize that I have never laughed harder in my life nor had as much fun as I did with those two. Whether it was tobogganing at night on cafeteria trays, sailing at night with drunken passengers, directing sloppy kayakers (me) to safer shoals, or some other craziness, Susan was the steady hand at the tiller and we were safer for it and able to laugh longer because of it."
Wayne, Susan's husband
Wayne well remembers Susan's sympathy for wounded animals.
I remember one seagull with a broken wing and only a few feathers that somehow knew that hanging around Daydream would result in regular meals carefully delivered to within a few inches of his beak. Scruffy was his name. We were living in a Mexican shipyard on Daydream for a few weeks while we did some boat maintenance. Any shipyard is a grubby place but a Mexican shipyard is almost comically dirty and dangerous and typically is full of stray dogs, cats and rats. This one had 5 feral puppies wandering around trying to make a living off of plastic bags, dirt and old sandpaper. They were wild enough that they would probably have taken a finger for lunch, but Susan instantly adopted all of them, fed them until they were safe to touch, and then cleaned and doctored them all to health. While we were there, Susan never went a step in that shipyard without a tiny little honour guard parade. Before we left, she boxed them all up and delivered them to a nearby marina full of giant yachts, where we felt sure that they would be adopted and fed ground filet mignon from golden dishes every hour on the hour.
Susan's kindness extended to strangers, too. Several years ago Susan made the decision to donate organs AND she made the effort to sign the card. Due to the nature of her cancer, corneas were the only possible donation. Susan's loved ones were comforted a little to receive word from the eye bank on Tuesday that two individuals would regain their sight as a result of her gift.
Janice Heckl
There is so much more to say about Susan but we think that you all know what a class act, one-of-a-kind woman she was. Susan's friend and former boss, Warren, said, "When I think of Susan I think of her beautiful smile and how it lit up her face. It was usually accompanied by a laugh. That smile and laugh radiated a joie de vivre and an acceptance that drew us to her and enabled us to share our secrets with her." Her many friends over the years—sailors and land-lubbers—will cherish their memories of her smile, her dimples, her enthusiasm, her laugh and that big, buzzy brain of hers. As sailor friends David and Gay said, "Susan was a beautiful person, in every sense: a true adventurous spirit, a great sailor, and of course, a special friend. When in company, one felt energized by Susan's displays of intellectual strength, self confidence and enthusiasm."
Her family cherished her. As her sister Glenda said, "She was the perfect sister, you could call anytime, just to chat, or a shoulder to cry on, or get advice. She was always trying to make you look at the positive side of things. Susan was a caring, loving person. She was always worried about everyone else and wanting to make sure they were ok. A few days before she passed away, Barb and I were saying goodnight to her and driving back to Ladysmith for the night. As we were leaving her room, Susan wanted to know if we knew the way and not to get lost. She was always concerned about others."
She was very close to her parents and was forever talking about cutting-edge computing geek stuff with her dad. If you had a problem, you always knew you could call Susan or dad for help and one or the other would be able to solve your problem or they would put their heads together to find the solution.
I'd like now to read some sailing stories from Susan's best friend, husband, sailing partner and true love, Wayne.
2005 was the worst year in history for hurricanes in the Caribbean and that was co-incidentally the year that we travelled there. Early in July we were in Bequia when the weather reports showed a hurricane forming and heading toward us. Since all hurricanes turn toward the north in this area we decided to move farther south. We did this several times and each time hurricane Emily turned toward our new position. Finally with no more time to run we anchored up on the east side of Grenada.
We had massive amounts of work to do in order to prep as much as possible but eventually we were ready with nothing left to do except wait and worry. During this period Emily changed course and it began to look like we would see the eye.
The next few hours were the most terrifying time I ever knew up until the last few weeks, but somehow during the entire experience I don't recall Susan ever expressing fear; she continued to work in a calm and organized way. During the darkest part of the night, the hurricane made a direct hit on Grenada as a category 1 hurricane with around 95 to 110 mph of wind. We came close to losing the boat when another boat in the anchorage dragged its anchor and narrowly missed Daydream. In fact we likely would have been hit if Susan had not used the engine to steer away from this boat.
No one could ask for a better or braver friend and partner on a sailboat.
Another example of Susan's courage came in the wee hours in a third world country. Some pirates tried to board Daydream to rob Wayne and Susan. Wayne went up on deck. There was a melee. In the process one of the pirates ends up on Daydream while Wayne ends up on their boat. Wayne saw something odd about the two guys on their boat looking at Daydream. Wayne looks back at Daydream and sees Susan on deck in her nightie with a butcher knife in her hand
Wayne also tells this story: "Early in our experiences, we were off the coast of Mexico and in the midst of a big moon, huge seas and gale-force howling winds. We had a giant problem. We broke a bunch of rigging at the top of the mast and were in danger of losing the mast, swimming 100 miles to shore, or possibly death. I was up on deck on watch while Susan slept. I yelled for her to help. Susan came running up on deck stark naked. I have this fond image of Susan in my mind: she is crying—tears spouting—yet she is doing everything absolutely right, and completely calm—in true Susan style."
Susan's battle with cancer was met with the same determination, strength and courage. She was determined to research this disease and fight, which is exactly what she did. When Wayne and Susan found out that the cancer was in Susan's liver, and the stent operation wasn't successful, she told Wayne "I'll practice all weekend to try again," followed sadly by "I just can't figure out any other way to solve this one."
Wayne says that over the last six months, Susan only once expressed that she was afraid. She was not afraid of death; this one moment of fear was about pain. She said to herself, "I have to work my way through this, organize myself, and learn myself out of this problem."
In closing, Susan's friend Michelle put it so well: "The list of things about Susan is so vast. She's like electricity. You take for granted that it always will be there: it helps light up your life, and when you don't have it, your life is darker, and you realize how important it was in your life. I like to think that Susan was being her kind, concerned self and going ahead to heaven to make sure everything was all good and organized for us to go up, and that she would make sure that we wouldn't get lost and find our way there safely."
Extra Stories
Aliya Sepkowski
I feel so honored to have had the chance to know Sue and be a part of her life. She was a strong woman, filled with so much joy and life, and I admire and look up to her. She lived life in an honest and real way, and she treated everyone with a beautiful respect. She had a gift of really being friends with people and really showing people that she cared about them. From the day I met Sue, even as a 12 year old girl, I always felt like she treated me as a friend instead of a child. The fact that she enjoyed hanging out with me had a big impact on me, because as a kid I think you're always looking for someone to value your opinion and your thoughts, and Sue always did that for me. That part of Sue is a special quality that is precious and hard to find. I hope that one day I will be like Sue, that I will be able to make each person that I am in contact with to feel like they are valued in the way that Sue did for me. I love her selfless and passionate heart. I love the way that her whole face lights up when she talks about something that she loves, whether that is sailing into the hidden corners of the earth, taking care of her sweet little kittens, or even watching funny Youtube videos. She had a way of impacting people simply by being herself. She has left a beautiful legacy behind her. Her honest and sweet soul did not go unnoticed during her lifetime, and I will always remember her for the beautiful and courageous woman that she is. I love you, Sue.
Aliya
Glenda (Susan's sister)
As a youngster, Suzi had a love for some foods and totally refused others. She could be quite fussy some times. A love of chocolate she had all of her life. There was a day in 1968 during our move from Nova Scotia to Saskatchewan that she demonstrated that fondness for chocolate. While Mom and Dad were out shopping for a home for the family, the three sisters stayed in the hotel room. As always, Mom has a stash of chocolate hidden somewhere. Without being caught by her sisters Suzi managed to find this stash. On Mom and Dad's arrival back to the hotel they found Suzi sitting quietly on the bed covered in chocolate from her forehead to the bottom of her chin. All you could see of her face was her big blue eyes and innocent smile.
Then there was the issue with bread crusts. After Susan was done eating toast or sandwiches you would find a ring of bread crusts hidden under the edge of her plate. Right up to her final days in hospital she was still removing the crust from bread.
Susan has always had a soft spot and love for animals.
Susan was a very smart woman. She was an A student in school and college with above average math skills and logical thinking. She had exceptional computer skills. Susan and her father shared a special bond when it came to technology and computers. Susan and her dad were always on the leading edge with new technology. They could talk circles around everyone else when it came to computers.
From Wilson Family
She was fun to be around, and had a great sense of humour. We were very impressed by her attention to detail and her truly encyclopedic knowledge of all things to do with computers – ahead of most people's interest in computers and gadgets. She could always solve a computer problem that any one of us had, and in very few minutes…it was no mystery to her! Sometimes she could even solve them over the phone.
Susan was so kind and helpful to our parents when we lost our father a couple of years ago. And she's always had a great relationship with her parents, very close to both of them and to her sisters. We will miss Susan, and keep her in our hearts.
Jessica Hausauer and Jan Monson – Wayne's Niece and her husband
One of the most recent memories I have is when my husband and I visited in Ladysmith two years ago. We had a wonderful lunch with Susan (who always pulled together awesome meals that I would have called gourmet!). As we talked and played with kitties, music was playing, I believe it was Lily Allen and we talked about how much we enjoyed her music. That is until the one song that contains a lot of swearing came on and she ran to the stereo and tried valiantly to change the song. As my Aunt she felt it was bad for me to hear such language (even though I was 32 at the time!) and I told her not to worry, I enjoyed that song no matter the language. I have a jumble of these little moments in my mind's eye. Getting sailing lessons (which always started with a safety briefing), sleeping over in the boat in Mexico and going for fish tacos, considering doing yoga on the dock (then deciding to sleep in instead), the backyard of the house they got married in, her explaining how a stackable washer and dryer worked to a kid who had never seen one… We will miss her greatly.
Wayne and Susan have always been a couple who my husband and I could admire. Their love and respect for each other as they are and solid marriage made them a great example in our lives. I can only imagine the loss that Wayne must be feeling. Please accept our love and hugs.
Brad Caldwell
One of my favorite memories of Susan was when Wayne and Susan were first dating. We would all go out and play pool. Susan wasn't a pool shark like Wayne and so after a short period of time she was affectionately nicknamed, "Miss Cue". She was so fun.
Randy and Leanne Prime
We have many good memories of Susan and her delightful sense of humour and her ability to tell stories.
As a committed cat lover, she regaled us with one of Twiggy's exploits while sailing in their first "Daydream" adventure. Twiggy had decided she could leap from the sailboat and land on the wharf. Once airborne, however, she realized she had miscalculated the distance, and Susan swore that Twiggy was able to reverse her trajectory in midair and return safely to their boat.
On another note, we remember Susan's "can do" attitude. As an employee of Abebooks which had many young employees intent on furnishing their first apartment or home, she offered to post a list of items we were trying to sell as we downsized after selling our home in Victoria. Within days, we were left with a mattress to sleep on, and not much else thanks to Susan's ability to coax the coffee room crowd into having a look at our list. Whenever we asked buyers where they heard about us, it was almost always the list on the bulletin board.
Annabel
On an Abebooks business trip to San Francisco the rooms got muddled, so Susan and I ended up sharing a king bed. I'd just met my future husband, who I was spending a lot of time with, so in the night I accidentally rolled over and tried to give Susan a cuddle. Oh we laughed and that kicked off the best business trip I've ever been on. We laughed through the Alcatraz night tour, we laughed walking through town at the chud smoke and we laughed through Mexican dinner and margaritas. I will always remember her positive attitude, her smile and I will always carry her laugh with me.
Michelle Sue
I remember when she had her first boat, she took a bunch of us girls out for an afternoon sail in Brentwood bay. Initially I thought: wow a whole bunch of girls on a boat, only one knows how to sail and lots of "drinks"… It's like the start of a bad "B" movie and we're all going to end up on one of the little islands and Susan would be "Mary-Ann" But Susan was always so organized, she made sure everyone was safe and well fed and watered and that we knew how to get there, we had our life jackets and we had a ball. I think I remember people fighting over who was going to steer the boat after a few glasses of wine though.
Here are some generals that I loved about Susan:
I loved how when she got excited about something she would start talking really really fast and her voice would get higher and then suddenly she'd end with this explosion of laughter. And her "yuck" face where she's squish up her nose and shake her head and wave her hands and do the "eeewww" Didn't really matter what she was saying because she was so darn cute and always fun to be around.
Great conversationalist. She was so incredibly smart, well read, current in what was happening in popular culture and was so good at researching things. I know if she chose something, then you couldn't go wrong selecting the same thing. It would have the "Susan" stamp of approval. She would always encourage you to look it up but I'd always be too lazy and it just seemed easier to trust Susan. She was always right anyway. If she did find something fantastic she would get excited and tell you all about it. Like how she knew I liked my salty snacks and told me how I could make cheese crisps in the oven. Or she told me how I could get my US purchases delivered to the airport when they didn't deliver to Canada. I loved that she was so open and loved to share. I was always amazed that she'd spend a year or more on a boat sailing among beautiful largely unpopulated islands then come back and be all current in what was on TV and had watched pretty current movies and knew all about e-readers and different technologies; enough to tell me all about them.
I loved how she always had "lists" for things. She always had a list of some sort going on. I remember how she used to track every expenditure so that her and Wayne would know what they were buying and saving. She was diligent!
David and Gay Cox: – friends from Australia
We met Wayne & Susan whilst cruising/sailing Mexico in 1997 and have been friends since then. With Susan's passing there is, so much lost.
We feel blessed to have had Susan stay with us, here in Australia, just a few short months past. Gay and I are most grateful for the many good-times spent with Wayne and Susan; saddened as we are now, we know that soon, the great memories we hold of Susan will return, and with those memories, gratitude and a smile.
A story when cruising in Mexico with Wayne and Susan, we were anchored close to 'Daydream' in San Carlos Harbour, they had to return to Canada for a short time and had asked us to keep an eye on 'Daydream' and, importantly, to go each day to feed 'miss twiggy, their boat-cat'. Now we didn't know it at the time, but 'miss twiggy' was a kitty with a personality disorder…when Wayne and Susan were on board, she was a normal kitty…when Wayne and Susan were absent 'miss twiggy' was a full blown guard cat with serious intent. The first day we went to feed 'Miss Twiggy' she lay in ambush. Luckily for me, Gay was the first one to step down into the salon. Obviously deeply hurt by being left behind 'Twiggy' was in no mood for visitors and enthusiastically attacked Gay with both claw and fang; it was a fairly even fight, gay got some nasty scratches and bites; Twiggy retreated to the bilges, ears ringing!!. We kept feeding 'Twiggy' until Wayne and Susan returned. Hence, the feeding strategy was different, i would enter first, carrying a chair and a whip, Gay would follow, quickly put the cat food down, then we would retreat!!. On Susan's return we asked her about 'Miss Twiggy's ' behavior, Susan said, Ohh no, I was hoping she would be a good girl…" We all had a great laugh.
Harry Browne
My wife and I met Susan and Wayne when we were traveling by sailboat in Mexico. They were another young couple, which was rare, as most other cruisers were much older. We quickly became friends, and since we were heading in the same direction, would end up in the same ports quite often.
On Cruising boats, couples tend to make friends as couples. So it was with us and Susan and Wayne. We frequently just referred to them by their boat name "Daydream." They were one to us, even though they were very different, Wayne with his energy and drive, Susan with her sweet nature, they balanced each other out so well.
We had many adventures with our friend "Daydream." Making our way south we would get separated for a few weeks or so, then have a great reunion when we crossed paths again.
Every once in a while Wayne would have to travel back to Canada for business, and we would get to spend time with just Susan. We were sad to see Wayne leave, but it was fun to see Susan take charge.
One of these times, we took a trip inland to Mexico City with Susan and two of her friends who flew in from Canada. Susan, who was always frugal, found the most unbelievably cheap bus from Zihuatanejo to Mexico City. What she didn't tell us was that it took twice as long as the normal bus because it traveled on the switchback mountain road to avoid the expensive toll way.
The bus driver was compelled to stop at some of the more dangerous hairpin turns to pay his respects to the shrine that was built in honor of one of his friends that took the turn a little too fast. In between these stops, Susan's friend had to ask the driver to pull over because she was getting motion sickness, which further impeded or progress.
As uncomfortable as the ride was, I can still picture Susan sitting in that cramped seat, with a smile on her face laughing and telling stories. We arrived the next morning and had a wonderful couple of days seeing the sights and enjoying getting to know the Susan half of our friend Day Dream.
We took several more wonderfully uncomfortable bus rides with Susan. We laughed on every one of them. Our boats' paths parted one final time after Susan and Wayne helped us get through the Panama Canal. As we set down roots on land, I always looked forward to reading about the further adventures of Day Dream.
The years have flown by. I think it has been 11 years since we visited Susan and Wayne in Victoria. That amount of time doesn't seem to make this news any easier to take.
I'm afraid this would be hard to incorporate into a eulogy, but it feels good to write about happy times with Susan. My wife Petra and I can't make it to celebrate Susan's life, but please give Wayne a hug for us.
Sue & Mike Powell: – cruising friends from down under
Sue & Mike couldn't be here today. They are out cruising and have been able to assure Wayne that Daydream is in good condition and safe in Bundaberg Marina, Australia. We knew her for just one sailing season – but what a joy it was to have met her. Her bubbly personality and willingness to help another yachtie will make her sorely missed in the cruising fraternity.
We had one memorable afternoon while anchored in Daniel's Bay in the Marquesas. We set up a hairdressing saloon on the aft deck of Daydream and whiled away the afternoon sharing girl talk and one or two cocktails, while the boys did boat chores. Ocean cruising as a lifestyle, is one where special bonds develop when kindred spirits meet and we are at a loss, now Susan is no longer with us.
Lorraine Graham
We only knew Susan for a very short time when we met in Bundaberg marina. She was a very happy loving person with a strong will. She is going to be missed by us all. We are so glad to have had the opportunity to meet such a lovely person even if it was for just a short time. Our love and sympathy go out to all the family at this sad time.